Francesco Seghezzi • Presidente Fondazione ADAPT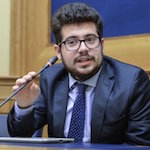 Presidente di Fondazione ADAPT e assegnista di ricerca presso l'Università di Modena e Reggio Emilia. Responsabile della comunicazione e delle relazioni esterne di ADAPT e Direttore di Adapt University Press. PhD in Formazione della Persona e Mercato del lavoro, ADAPT Senior Research Fellow, Visiting scholar presso la Catholic University of America, Visiting Fellow alla Industrial and Labour Relation School della Cornell University e Visiting Fellow presso la University of Chicago. Tra i suoi temi di ricerca l'analisi delle dinamiche occupazionali nel mercato del lavoro, con particolare attenzione alla fascia giovanile e al rapporto tra lavoro e innovazione tecnologica, con particolare attenzione al fenomeno di Industria 4.0 e all'impatto sul lavoro nella manifattura. Editorialista presso diverse testate, in particolare Avvenire e Il Foglio.

Area di interesse: la Grande Trasformazione del lavoro contemporaneo; Industry 4.0. 

Mail: francesco.seghezzi@adapt.it
Cellulare: +39 333 6619140
Twitter: @francescoseghez
LinkedIn: Francesco Seghezzi
















































Salva
Last modified: Thursday, 18 April 2019, 9:04 AM