Pietro Manzella - Adapt Senior Research Fellow
Pietro Manzella • Postdoc - ADAPT Senior Research Fellow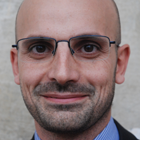 Di origini americane, è in ADAPT dal 2009. È dottore di ricerca in Diritto delle Relazioni di Lavoro. Il suo ambito di studio riguarda le criticità derivanti dalla traduzione nel campo del diritto del lavoro e delle relazioni industriali comparate.

E' stato assegnista di ricerca presso l'Università degli Studi di Modena e Reggio Emilia. 
È English editor delle riviste E-Journal of International and Comparative Labour Studies, della Collana ADAPT Labour Studies Book-Series e della rivista Diritto delle Relazioni Industriali.

E' stato Visiting Scholar presso la Scuola di Relazioni internazionali e di lavoro della Cornell University (USA) e la London School of Economics and Political Science.
Aree di interesse: lingua e traduzione inglese, linguistica, comparazione. 
CV italiano (pdf) • CV inglese (pdf)

Contatti
Mail: pietro.manzella@adapt.it • pietro.manzella@unimore.it
Twitter: @pietro_manzella
Skype: pietro.manzella
LinkedIn: Pietro Manzella
Last modified: Tuesday, 7 January 2020, 4:15 PM